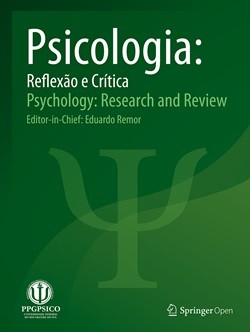 Psicologia: Reflexão e Crítica / Psychology: Research and Review is now indexed in PubMed Central (PMC) and all articles published by the journal will be immediately available in this free full-text archive of biomedical and life sciences journal literature at the U.S. National Institutes of Health's National Library of Medicine (NIH/NLM).
The journal now has a dedicated page on the PMC web site which can be accessed at: www.ncbi.nlm.nih.gov/pmc/journals/3782/.
This journal is ranked A1 in the 2020 Classificação dos periódicos no Sistema Qualis da Capes.