An application of item response theory to psychological test development
Psicologia: Reflexão e Crítica
Psychology: Research and Review
2016
29:18
Received: 26 November 2015
Accepted: 7 April 2016
Published: 18 April 2016
Abstract
Item response theory (IRT) has become a popular methodological framework for modeling response data from assessments in education and health; however, its use is not widespread among psychologists. This paper aims to provide a didactic application of IRT and to highlight some of these advantages for psychological test development. IRT was applied to two scales (a positive and a negative affect scale) of a self-report test. Respondents were 853 university students (57 % women) between the ages of 17 and 35 and who answered the scales. IRT analyses revealed that the positive affect scale has items with moderate discrimination and are measuring respondents below the average score more effectively. The negative affect scale also presented items with moderate discrimination and are evaluating respondents across the trait continuum; however, with much less precision. Some features of IRT are used to show how such results can improve the measurement of the scales. The authors illustrate and emphasize how knowledge of the features of IRT may allow test makers to refine and increase the validity and reliability of other psychological measures.
Keywords
Item response theoryGraded response modelPsychological assessmentAffects
Background
Valid and reliable measures are essential to the field of psychology, as well as, to the study of abilities, aptitudes, and attitudes. In this sense, classical test theory (CTT) has been extensively serving the testing field for about 100 years. However, the implementation of item response theory (IRT) to psychological and educational assessment has caused major and positive changes to psychological test development (see, for example, Hambleton & Jodoin, 2003). The use of IRT with test development has several advantages over CTT mainly because IRT produces person parameter invariance (test scores are not dependent on the particular choice of test items) when model fit is present, and test information functions provide the amount of information or "measurement precision" captured by the test on the scale measuring the construct of interest (Embretson, 1996; Hambleton et al. 2000) and other features too. These features and others along with CTT drawbacks, have led the authors of this paper to introduce Samejima`s (1969) graded response model (GRM). Estimation of latent ability using a response pattern of graded scores. Psychometrika (1969) graded response model (GRM), the topic of model fit, and other important characteristics of IRT analysis, to the development of psychological tests. In addition, another goal of this paper is to present a comprehensible application of the GRM, to interpret these results, and to highlight the importance of the findings provided by these analyses for psychological test development.
The topics regarding CTT, IRT, item and ability parameter invariance, IRT assumptions, the GRM and model fit will be presented and explained. The remainder of the paper will introduce an application of the GRM to our data, the methodology used, and how these results can be considered in order to refine the Affect Scale.
Classical test theory
As Gulliksen (1950) presented, and many readers know, within a CTT framework, item statistics are examinee sample-dependent for CTT models. This means that test item statistics are very dependent on the sample of examinees used in item calibration. But it would facilitate test development if the item statistics were not directly tied to the choice of examinee sample. In a similar way, examinee test scores too are dependent on the choice of test items. This means, for example, for examinees to be compared, they need to either take the same test items, or statistically equivalent test items. But there are times when better testing would result if the choice of test items was matched to the examinees' ability levels. Examinees scoring high on a construct might receive more challenging items, for example. But individualing the choice of test items, would limit the possibility of comparing examinees. Next, four limitations of CTT are presented (and for another perspective, see Embretson, 1996).
The first shortcoming of CTT is that the interpretation of respondent characteristics depend on the test used. Respondents will appear smarter, if an easier test is administered, but will look like less smart, if a more difficult test is answered. The second shortcoming of CTT is that test characteristics are sample-dependent. The same test administered in a group of high ability students and in another group of low ability students will produce items with different levels of difficulty, for example. In the first sample, items difficulty will appear lower than the difficulty for the second group. These shortcomings imply that test characteristics can only be done in the same context (sample). Once, test parameters depend on persons' latent trait and vice versa, item and test characteristics will change when other persons (samples with different levels of latent trait) answer the test.
The third shortcoming of CTT is that the theory assumes that errors of measurement are equal for all persons. This is problematic because persons with different levels of ability will show different levels of error (guessing) in a test that evaluates intelligence or any other construct, for example. The fourth shortcoming of CTT is that it does not allow accurate predictions about possible results for a respondent or for a sample on an item, using only their ability scores. This information would be important for a test designer interested in developing a test for a population with specific characteristics. All these points can be addressed effectively with IRT, if of course an IRT model can be found that fits the test data.1
Item response theory development and properties
IRT was initially developed in the 1950s and 1960s by Frederic Lord and other psychometricians (Lord, 1952; Lord & Novick, 1968) who had the goal of developing a method able to evaluate respondents without depending on the same items included in the test (Hambleton & Jodoin, 2003). Therefore, IRT evolved from classical measurement theory with the purpose of overcoming many of its limitations (Hambleton, 1994). IRT is a statistical theory comprised of a variety of mathematical models that have the following characteristics: a) to predict person scores based on his/her abilities or latent traits and b) to establish a relationship between person's item performance and the set of traits underling item performance through a function called the "item characteristic curve" (Hambleton et al. 1991). These characteristics are possible because IRT models provide item and ability parameter invariance for test items and persons, when the IRT model of interest actually fits the available test data. In other words, the same items used in different samples will keep their statistical properties (for instance, difficulty and discrimination), and persons' scores that represent ability or latent traits on a specific construct will not depend on the particular test items they were administered.
The current study
A common way to conduct research in the field of psychology has been through the use of standardized scales to measure constructs of interest (e.g., affects, optimism, self-esteem). Test development to evaluate positive and negative affect has used the Classical Test Theory (Bradburn, 1969; Fordyce, 1977; Kammann & Flett 1983; Watson et al. 1988), and, more recently, the Item Response Theory (Ebesutani et al. 2013; Lin & Yao, 2009). Some reasons why the IRT is still not widely used, despite its advantages, is probably because: a) it requires a deeper statistical background from the researcher (Embretson, 1996), b) it requires large sample size to estimate item and ability rather than CTT - approximately, more than 500 examinee responses are requested to achieve proper estimation results, and c) it was more focusing on individual item, and in psychology background, test-level analysis is more reasonable to evaluate with factor analysis (see, Maydeu-Olivares, 2005, for a comparison between IRT and factor analysis). Modern procedures to improve positive and negative affect estimation, however, may contribute to higher discrimination scores among the participants and are critical to the advancement of the field. For this reason, we believe that the readers of the Psicologia Reflexão e Crítica will benefit from a step-to-step description of a sophisticated method to improve test development: the item response theory modeling. Moreover, this paper provides validity and reliability evidences to the Affect Scale (Zanon et al. 2013a) – a standardized test developed to assess positive and negative affect on adults.
What follows is an application of the GRM to the first author's research to develop and evaluate an affect scale. The goal of the next sections is to provide more details about the application, and show how IRT modeling was helpful in the evaluation of positive and negative affect.
Method
Participants
The respondents were 853 university students (57 % women and 43 % men) between the ages of 17 and 35 (M = 21 years, SD = 3). Participation in the study was voluntary. These numbers are very substantial for IRT research and therefore permit item parameter estimation with a high level of precision.
Instrument
Affect Scale (Zanon et al. 2013a) is a self report instrument that consists of two independent factors: positive affect and negative affect. Positive and negative affect are characterized by the frequency and intensity of emotions and feelings that an individual experiences as either pleasant or unpleasant (Lyubomirsky et al. 2005). Persons with high scores of positive affect experience frequent and intense episodes of pleasure. They consider themselves happy, enthusiastic, and confident. High levels of positive affect are associated with physical health, conjugal and work satisfaction (Naragon & Watson, 2009). Conversely, those persons with high levels of negative affect experience repeated episodes of intense displeasure (Watson, 2005). Generally, these respondents perceive themselves as sad, discouraged, and anxious. In general, high levels of negative affect are associated with rumination (Trapnell & Campbell, 1999), anxiety, depression (Miles et al. 2004), and neuroticism (Zanon et al. 2013b).
Each factor (positive and negative) consists of 10 sentences representing the various moods and emotions of persons, such as "I am proud of myself", and "I have been worried lately". Each statement is rated by the respondents on a 5-point Likert scale. The rating scale is defined by the end points: 1 – this item does not describe me at all, and 5 – this item describes me completely. The higher the number, the more the item describes the respondent, and the lower the number, the less the item describes the respondent.
Procedures
Respondents responded collectively to the questionnaires from within their classrooms. Beforehand, the students were informed that participation in the study was voluntary, and that all information shared would remain confidential. The students were asked to carefully read the questions and respond according to their personal feelings. Data collection was performed in a single session for each class of students. This study is part of a project approved by Ethics Committee and all ethical procedures were followed on this research.
Results
Internal structure evidence
Factor analysis (with an oblimin rotation) identified two principal factors that explained 38.4 % of the total variance (25.6 % for positive affect and 12.8 % for negative affect). All items had positive factor loadings between .46 and .74 in the first dimension, and between .38 and .77 on the second one. These items presented loadings lower than .40 in the other dimension. Coefficient alpha was .83 for positive affect and .77 for negative affect and the correlation between the factors was -.38. These results were gathered with the same sample used for the IRT analysis and indicate preliminary evidences of validity and reliability for the Affect Scale.
IRT modeling
IRT analyses were conducted for the positive and negative scale separately. From the correlational information, it seemed clear that the two scales were rather different. Table 1 presents slopes (a), location (b) and chi-square tests for the negative affect scale. The slopes were considered moderate. The location parameters indicate that the items were spread over the continuum of the scale. Five items were on the left hand side of the scale (below the mean respondent score) and the other five were on the right hand side (above the mean). Chi-square tests showed that two items were significant, which suggest that these items were not well fitted by the model. However, residual inspection (at the test, item and category level) provided enough evidence to consider that the model actually fitted the item level data. Table 2 presents slopes (a), location (b) and chi-square tests for the positive affect scale. The slopes were of moderate size, and slightly higher than the other scale, which meant that the positive affect items were generating more item level and test level information. All items were located on the left hand side of the scale suggesting that many respondents were finding it easy to identify with the statements. Two items presented significant chi-squares, but again, residual analyses suggested that the model fit was acceptable.
Residual analyses
Raw and standardized scores were analyzed at the item level. Initially, the amount of answers for each category (e.g., 1, 2, 3, 4 and 5) in every single item is compared with the amount of expected answers –produced by the chosen model. Categories without answers or with large discrepancies between observed and expected values indicate poor fit. Another procedure is to evaluate how small the residuals (differences between the observed and expected scores from each item) are on the latent trait continuum for each items. An item, for example, might present small residuals on the low part of the continuum, but large residuals on the rest - this also would indicate poor fit. Visual inspection of the residuals on all categories and for each item was conducted for the negative and positive affect.
Residual analyses were interpreted graphically. ResidPlot-2 provides confidence bounds for the expected raw residuals on the latent trait continuum for an arbitrary number of intervals (13 in this study), and also provides standardized residuals (plotted on 13 intervals) spread over the latent trait. For raw residuals, good fitting model is verified when observed residuals are found between the confidence bounds; while for standardized residuals, good fitting model is seen when the plots are between -2 and 2.
At the category level, raw and standardized residuals for the five categories of each item were analyzed. For the raw residuals, this step focused on the observed residuals out of the confidence bounds, and for the standardized residuals, the number of plots out of -2 and 2 were considered. Regarding the negative affect scale, approximately, 58 % of all categories presented observed residuals between the bounds in all 13 intervals; and 56 % of all categories presented standardized residuals between -2 and 2. For the remaining categories, no more than two observed and standardized residuals were found out of the confidence bounds and -2 and 2 respectively in each category. At the item level, similar procedures were conducted. And, most of the observed and standardized residuals again were on the confidence bounds and between -2 and 2. At the test level, observed and expected standardized residual distribution for all items were assessed, along with observed and expected score distribution. Visual inspection revealed small differences, which suggested acceptable fit.
Regarding the positive affect scale, approximately, 48 % of all categories presented observed residuals between the bounds in all intervals; and 38 % of all categories presented standardized residuals between -2 and 2. No more than three observed and standardized residuals were found out of the confidence bounds and -2 and 2 respectively in each category. At the item level, most of the observed and standardized residuals were on the confidence bounds and between -2 and 2; and for all items, again small differences were found between observed and expected standardized residuals and score distribution, conferring acceptable fit to the scale.
Test information functions
Figures
2
and
3
present test information functions (solid lines) and standard errors (broken lines) to the positive and negative scales, respectively. As shown in Fig.
2
, most of the information provided by the scale was below the mean of respondent scores suggesting that the scale was better designed for respondents with lower scores. Regarding the negative affect scale, the information was well spread over the continuum. However, the amount of information given was much lower than the positive affect scale and less than what was considered acceptable. In a redesign, perhaps the clarity of the negative statements could be improved, and perhaps the addition of a few more items could increase the level of test information. But historically, negatively worded items have always proved more problematic for respondents.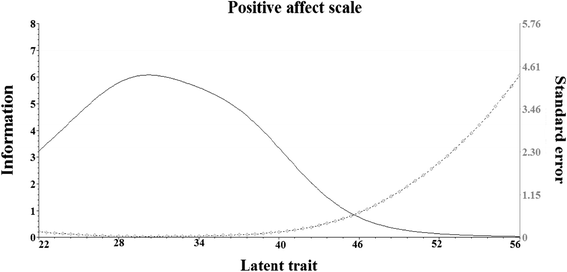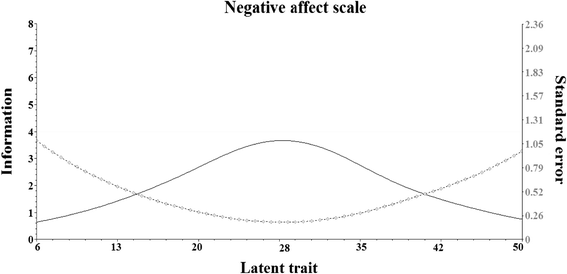 Discussion
The two most important advantages provided by an IRT application during the development and analyses of these scales are probably item and ability parameter invariance and test information functions. Many psychological tests used to assess personality, intelligence, attitudes etc. might also benefit from these IRT advantages. In research as well as in applied contexts, details about the area in which the latent traits measured by the test are doing better measurement (and how well) would help clinics, researchers or test makers to decide which test is more appropriate for their specific interests. In addition, a test that is free of examinee sample characteristics in test development allows for more reliable comparisons among respondents as well as groups (see some recent IRT applications in the Brazilian context: Brant et al. 2015; Carvalho et al. 2013; Knijnik et al. 2014; Lopes, & Bueno, 2014; Muniz et al. 2014).
Often, classical methods exclusively are used to offer evidence of validity and reliability to new tests and this evidence is undoubtedly important. But this paper provides evidence that IRT results can be extremely helpful to complement this evidence with information regarding the quality of the measurement at specific points of the measuring scale. CTT can provide this same information but it is more cumbersome to do so using little known statistics for assessing conditional errors. In this case, it is clear that the positive affect scale should not be used for the purpose of evaluating people with high levels of positive affect. The amount of information provided by the 10 items is simply not very good at the higher score levels. For this situation to change, more "difficult" items are needed in the scale—items that would be difficult for respondents to agree with and therefore permit better assessment at the high end of the score continuum. Situations in which people are being selected based on their (high level of) intelligence or other skills/traits might be misleading, unfair, and even unreliable, if the information function and errors provided by the test presented similar distribution and values to those shown in Fig. 2.
IRT applications provide different standard errors of measurement at different trait levels. Because standard errors of measurement are used in score interpretations, it is possible to easily create confidence intervals to interpret individual scores (Embretson, 1996). So, one can have a range (around the reached score) associated with a probability. The smaller the errors at some level, the smaller the confidence bands. This does not happen with classical methods that nearly always assume the same standard error applies at all trait levels.
As shown in Fig. 3, the quality of the measurement provided by the negative affect scale is spread over the continuum and it is relatively higher at the middle of the scale (around the mean). However, the amount of information provided is relatively low and reflects items with modest discriminative indices. It raises the question of how well these statements were actually written. Perhaps they were confusing to respondents. Due to parameter invariance properties, these items will keep their psychometric characteristics in other applications. So, new items can be included in future revisions of these scales and a reevaluation of the item information functions could be conducted. These procedures can be repeated until one gets the desired test.
According to Embretson (1996), psychologists have had little exposure to IRT especially because it is both relatively new and statistically sophisticated (compared with classical methods), measurement courses have declined in graduate programs of psychology so not only are graduate students less knowledgeable about CTT, they may have little or no knowledge of IRT, and because not much understandable material has been focused on psychological issues (most of them are to educational assessment). The latter point was a focal point within this paper. Two introductory books are suggested to students and professors interested in IRT (for psychological examples, see Embretson & Reise, 2000; for educational examples, see Hambleton et al., 1991).
This study is not free of limitations. Differential item functioning (DIF) constitutes a serious threat to test validity and needs to be further addressed on the items of the Affect Scale. DIF occurs when participants with identical latent trait provide different patterns of answers to some items. This might be the case of items that favor (or disfavor) some sample's subgroups (e.g., girls and boys, black and white, minorities). Considering that women are more likely than men to present depression symptoms, the investigation of DIF across sex on items of positive and negative affect might reveal possible differences on these groups.
Conclusion
Lastly, IRT is not a panacea and does not correct problems of misleading items or failure to meet content specifications. It also does not substitute classical methods that were influential and are still important. However, IRT is a worthwhile tool that can and should be used to increase the quality of psychological tests and consequently psychological assessment.
Footnotes
1
As indicated by one anonymous reviewer, this might not be the case for Rasch models because is expected that the data fit the model and not the opposite. Our position, however, is that models that do not fit the data are of little value and removing items from the test to fit the model can decrease its content validity. The Rasch model also assumes that test items are all equally discriminating and this assumption runs counter to the widely held view that test items in practice often differ in both their difficulty levels and discriminating powers.
2
Measurement invariance depends on the degree of representativeness of the sample in the population being studied. Thus, parameter invariance might not hold for samples with extremely different characteristics.
Declarations
Open AccessThis article is distributed under the terms of the Creative Commons Attribution 4.0 International License (http://creativecommons.org/licenses/by/4.0/), which permits unrestricted use, distribution, and reproduction in any medium, provided you give appropriate credit to the original author(s) and the source, provide a link to the Creative Commons license, and indicate if changes were made.
Authors' Affiliations
(1)
Department of Psychology, Universidade São Francisco, Itatiba, Brazil
(2)
Department of Psychology, Federal University of Rio Grande do Sul, Porto Alegre, Brazil
(3)
School of Education, University of Massachusets Amherst, Hills South, USA